We are Bill Bailey's Signs, your neighborhood sign shop!  Our team truly enjoys making signs and assisting our customers with all of their sign projects, big or small.  We value being our customers #1 source for quality signs.  Our doors opened 13 years ago in the Cedar Valley area, just east of Nutty Brown Road.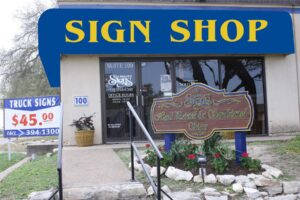 Our specialty is custom quality signs including:
Magnetic Signs
Computer Graphics
Logo Design
We support our local community and are members of The Dripping Springs Chamber of Commerce. We also support our local non-profits and have a special program designed for these organizations. As our valued customer, you matter to us!